High-Speed Connectivity for Mobile Computing
Key Benefits
Easy to integrate: Standard PCI Express M.2 form factor
High-speed cellular connectivity with the latest technologies and multi-operator SUPPORT
Easy upgrade path to new network technologies
Sierra Wireless AirPrime® EM Series embedded modules deliver high speed connectivity with a variety of advanced mobile technologies around the world.
Their PCI Express M.2 form factor allows easy integration into smaller and thinner mobile computing devices like tablets or ultrathin laptops.
The EM Series are optimized for low power consumption, to enable longer battery life. These modules SUPPORT Windows® 7, Windows® 8.x, and Linux operating systems.
MULTI-OPERATOR SUPPORT
With multi-operator SUPPORT on multiple LTE networks, the EM Series allow PC OEM customers to address global markets and provide end customers the flexibility to choose and change their network operators with one device
LTE MODULES
These modules SUPPORT LTE data speeds up to 100 Mbps downlink and 50 Mbps uplink and are compatible with HSPA+ and quad-band GSM/GPRS/EDGE frequencies.
The EM7355 also SUPPORTs CDMA/EV-DO.
EM7355 (North America)
EM7305 (Europe)
EM7330 / EM7340 (Japan)
Key Features
Available for LTE, HSPA+, EV-DO networks
Compact and thin PCI Express M.2 form factor 42 x 30 x 2.3 mm
Developed for mobile computing
USB 2.0 High Speed interface to application CPU
HSC/MHF4 antenna connectors
Antenna Diversity and MIMO for improved RF performance and high data rates
SUPPORTs Windows® 7, Windows® 8, and Linux operating systems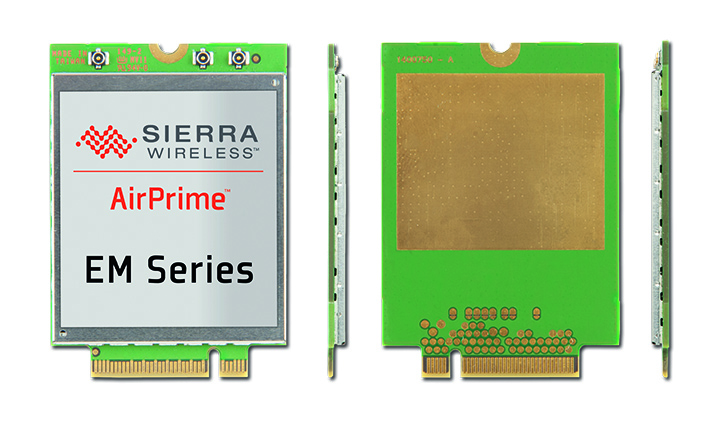 Mobile-Technology
Interfaces
Audio
Function
Product
EM7305
X
X
X
X
X
 
 
X
 
 
 
 
 
 
 
 
 
X
EM7355
X
X
X
X
X
X
X
X
 
 
 
 
 
 
 
 
 
X
EM7430
 
 
X
X
X
 
 
X
 
 
 
 
 
 
X
 
 
X
EM7455
 
 
X
X
X
 
 
X
 
 
 
 
 
 
X
 
 
X
X Funktion unterstützt
Development Tools:
EM DK – Development Kit for EM Series
Development Board with M.2 connector
Power supply, antennas, cables and accessories
EM Software Development Kits for Host OS
Set of APIs for customer application
Available on Sierra Wireless developer platform