The Industrial Master Boxers - Part 1:
MiTAC´s large MX1 and small MB1 for particularly harsh environments
It doesn't matter whether they are used in production, outdoors or on railways, the two Boxer PCs of the new master series from MiTAC compete in different weight classes, but prove their worth in the same division as the "Extremely Rugged" ePCs.
For example, the high-performance MX1 and the compact MB1 have robust housings, which also withstand extreme environments. It doesn't matter whether they are used in extremely high temperatures or temperatures well below freezing, the two box PCs successfully meet the challenges of their environment.
We would like give you an insight into the modularity and ruggedness of these computers in the first part of our short series of articles.
In the next newsletter, we will show you how they can help you to master AI applications easily and quickly.
Modular interface professionals
Meet your need for individual interfaces and connection options. Both Boxers offer maximum flexibility and meet almost any conceivable requirement. Even the standard configuration of the MiTAC MB1 and MX1 ePCs leaves hardly anything to be desired and can be expanded as required. This is made possible by the modular structure that makes these systems so unique. As a result, the embedded PCs can be configured exactly to the requirements of your application. And should the requirements change, you can easily exchange the modules on the basis of the plug-and-play principle.
MX-1 –
The high performer
You wish to connect a large number of peripheral devices? It's very easy! You can e.g. control and supply 10 cameras with current via PoE. And if the normal RJ45 connections are not suitable owing to environmental influences such as strong vibrations, you easily can replace them with screwable M12 connections. And you still require 8x USB, three hard drives, three monitors and a SIM card? Everything is possible! The high-performance Intel core-i or Xeon processors of the eighth generation (Coffee Lake) provide the requisite computing power for the Boxer PC, which is executed as a barebone.
The use of a dedicated graphic card and accelerator cards for high-end AI edge computing is also easy to master with the MiTAC MX1. And if does get too hot as a result of extreme environments, you can easily install a fan in the otherwise fanless PC system in order to generate an air flow. The connection for a fan is also already available as standard.
MB-1 –
Compact, but excellent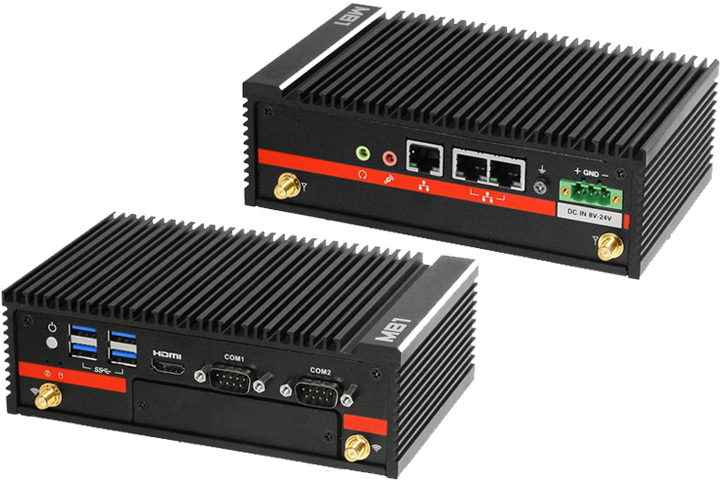 Its baby brother, the MiTAC MB1, is equipped with highly efficient Intel Atom processors of the latest generation. All kinds of options are incorporated in its extremely compact fanless housing. You can also equip this compact Box PC with a large number of expansion modules, e.g. with DIDOs or RS232/422/485 connections. You have a high degree of flexibility and can make the optimum I/Os available for the application with simple means. Despite its small size, the MB1 still has enough space for an optional accelerator card. The MB1 is therefore an excellent choice when it comes to compact AI edge computing.
Further information on the MiTAC MX1 and MB1 Master Boxer ePC solutions is available on request.
Industrie PCs
Tel.

+49 6126 590-453

Fax

+49 6126 590-138
Share this article