Small but OHO and equipped with up to 3.4 GHz AAEONs NANO ePC series with a really "cool" cooling concept
With external dimensions of just 150 x 125 x 55 mm, the NANO series by AAEON may not be square but it is absolutely practical and high in quality.
Very high, in fact, considering its performance.
For example, it is available with a Intel® Core™ i7 of the 6th-generation "Skylake". With a processor frequency of 3.4 GHz, it's truly impressive!
Scalably flexible
In the NANO series, Aaeon proves itself as flexible as ever, and offers you the option of scaling the performance class to your needs. From the Intel® Celeron™ processor to the entire Intel® Core™  i processor family. You can choose...
 
NANO-002F-3955 
NANO-002F-6100 
NANO-002F-6300 
NANO-002F-6600
CPU &
clock frequency
Intel® Celeron®
3955U
2.00 GHz 

Intel® Core™
i3-6100U
2.30 GHz 
Intel® Core™
i5-6300U
2.40 GHz bis 3.00 GHz 
Intel® Core™
i7-6600U
2.60 GHz bis 3.40 GHz
RAM
DDR4 SODIMM x 2 bis zu 16 GB
Display
HDMI x 2
LAN
GbE x 2
USB
USB 3.0 x 4
Serial I/O
RS-232 x 1
Input voltage
DC: 12 V~19 V
Temp. range
0 °C to 50 °C
Many possible applications
The compact design enables the device to be used with ease under even the most challenging of conditions. Thanks to its wide input voltage range from 12 V to 19 V, the NANO series can be flexibly integrated. The variant equipped with a fan (NANO-001F) covers an operating temperature range from 0°C to 50°C. For sound-sensitive environmental conditions, the fanless cooling concept is recommended (NANO-002N). This still covers an operating temperature range from 0°C to 40°C.
A wide variety of connection options and OS support
To meet your requirements in field applications, the NANO series is equipped with various interfaces. With 2 x Gigabit LAN ports, 4 x USB 3.0 interfaces and a COM port, you are fully equipped to go. For audio applications, the devices feature an audio output and an additional microphone input. The video output is a particular perk. The dual HDMI interfaces enables the output of the video signal on two screens. Here the integrated graphic chip set generates a resolution of up to 4,096 x 2,160 pixels (4K).
The OS support list reads like a "Who's Who" of the most commonly used operating systems in industrial PCs. As a result, the NANO series can be operated with Windows® 7 (32 & 64-bit), Windows® 8.1 (64-bit), Windows® 10 (64-bit) or Linux Fedora 22 (64-bit).
This way, the device properties of the NANO series can be easily and comfortably integrated in your existing ecosystem, without any restrictions in terms of the operating system used for new designs.
Just send us your enquiry.  
NANO-002F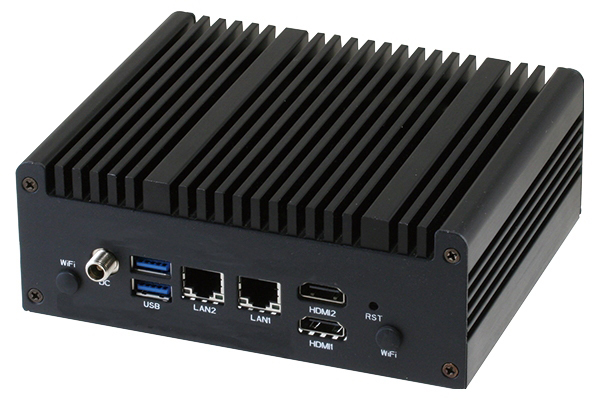 NANO-002FB
Computer on Module
Tel.

+49 6126 590-453

Fax

+49 6126 590-138
Share this article