NLT becomes TIANMA:
Different name – Same high quality
 

From July 2017, the European subsidiary of Chinese parent company TIANMA Microelectronics will have a new name: TIANMA Europe GmbH.

The Japanese subsidiary NLT Technologies will likewise be renamed TIANMA Japan. The reason for the name change is the strength of the TIANMA brand on a global level and the strategic decision to present a unified image, according to CEO Peng Cui.

TIANMA will continue to meet the challenges of the market with a broad portfolio, reliable service, and especially, high quality standards. The collaboration between TIANMA and GLYN will continue to be strengthened and expanded. TIANMA will remain a strong focus partner for the future "Displays & System Solutions Teams" strategy, with whom we will continue to work closely with to guarantee you maximum support.
Always the right solution
Whether it's the high-end products of the NL-series or long-runners at the exceptional prices of the TM-series. TIANMA combines these two philosophies in its corporate culture, and so offers the right display for every customer. 
For the highest standards
With its products in the NL-series, TIANMA will continue to pursue its philosophy of exceptionally high industrial quality for demanding applications with a long product life. The usual high quality of the former NLT products will, of course, remain unchanged.
This is embodied in the 10.4" display NL10276BC20-18KH with PCAP. This has a high resolution of 1024 x 768 pixels; a LVDS interface guarantees the bridging of longer distances to the image source. The high brightness of 800 cd/m² makes the display easy to read in even the most difficult conditions.
An extended operating temperature range from -30°C to 80°C and a PCAP with "optical bonding"and matte surface treatment make this display perfect for use in difficult conditions. The bonding and matte surface treatment minimise disruptive reflections. With an LED half life of 70,000 hours, the display is exceptionally well-suited for applications designed for a long life cycle.
The best price-performance ratio
With the products in the TM-series TIANMA offers one of the best if not the best price-performance ratios on the market.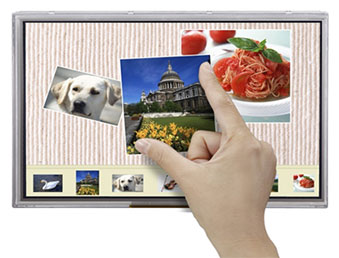 This is demonstrated exceptionally well by the 7" display TM070RVHG04 including PCAP. With a resolution of 800 x 480 pixels, an RGB (TTL) interface and an extremely high brightness of 1200 cd/m², the display meets a very high demand. With an LED half life of 40,000 hours and an operating temperature of -20°C to 70°C, the display is suitable for most applications and comes at a very affordable price.
We would be happy to help you with any questions or queries!